Meet Your Purpose: Our prototype is ready.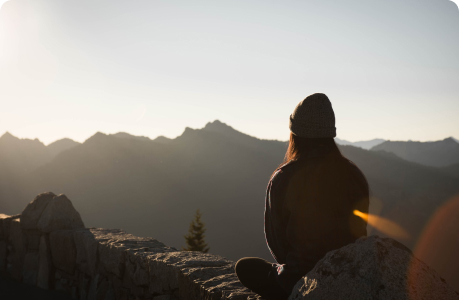 After the pandemic, the VUCA world has shifted up another gear: We are struggling in our professional lives with not just one, but diverse challenges such as war, supply chains, inflation, skills shortages and general overload all at the same time.
The result: burnout numbers are skyrocketing. More and more people are looking for a new job – also in Europe. Psychological health is becoming a concern for everyone.
Employees and managers tell us that they now feel the need for reflection and want to gain clarity about how they can create value for business and society in the future.
Our approach: we want to enable such purpose-reflection and exchange with like-minded people for the entire working population via a web-based application that can be used via smartphone, supported by artificial intelligence.
The first step has been taken: we have developed a prototype that you can participate in over 4 days for free and achieve greater clarity on the following aspects of personal Purpose:
Meet Your Values: a playful identification of personal core values.
Meet Your Needs: a guided walk through nature with reflection on what really matters in life.
Meet Your Expectations: a guided meditation to focus on concrete needs
Meet Your Skills: an AI-based impulse on the skills, talents, and gifts that you are particularly good at using right now.
After submitting the results, our "Purpose Matcher" starts searching for a suitable conversation partner for you to further deepen the four Purpose categories. You will receive an invitation to the personal matchmaking, which will take place monthly via Zoom starting in September 2022.
Supported by the Erasmus+ program of the European Union, we can offer the prototype free of charge for all Europeans!