Registration for the Culture Cafe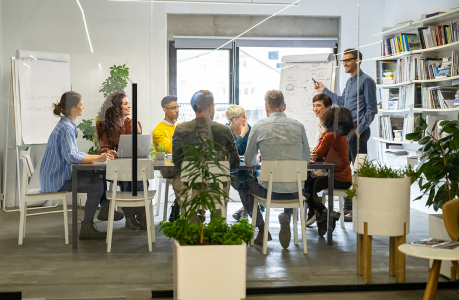 Many managers see culture as a soft topic that is difficult to measure and "manage" and is therefore often only observed.
As a result, the culture in many teams is no longer up to date: while the surrounding environment is changing and companies need to solve more and more challenges at once, the culture often feels stagnant. Not only that – it becomes increasingly "toxic," as individual elements that have sustained organizations until now suddenly become obstacles.
This is evident, for example, in the following ways:
Employees rely on the higher-ups to already know where to go.
Goals lose their effectiveness and the general overload increases.
External pressure and uncertainty are growing, even when filling new positions.
Today, we need to be prepared to shed parts of the old culture in order to better cope with growing challenges.
New studies show that the core of the current change does not lie in digitalization and networking, but in new cultural qualities. This is in line with the motto of management guru Peter Drucker: "Culture eats strategy for breakfast". Only an organic and trusting culture of togetherness empowers companies to master the challenges of the VUCA world and to help shape it.
Reawakening entrepreneurial power requires looking inward. It starts with a shift in thinking among the leadership team.
Engaging with culture paves the way to an entrepreneurial future.
Efficiently moderated, the Culture Cafe creates a space for dialogue between business leaders and change agents. Together, we will bring toxic elements of corporate culture to light, and we'll look for pragmatic options for action. This will open the view to the entrepreneurial and future-oriented elements of the company culture.
Register here – we'll have English language sessions in each of the online events: